Privacy Policy
This section of www.rotariclub.com has been compiled to help the users who are concerned with how their 'Personally identifiable information' (PII) is being used online by www.rotariclub.com. PII, as used in US privacy law and information security, is information that can be used on its own or with other information to identify, contact, or locate a single person, or to identify an individual in context. Please read our Privacy Policy carefully to get a clear understanding of how www.rotariclub.com collect, use, protect or otherwise handle your Personally Identifiable Information.
1. Collecting personal information:
- What personal information is collected at www.rotariclub.com?
When registering, donating, setting up a campaign or otherwise using www.rotariclub.com, as appropriate, you may be asked to enter your name, email address, phone number, PayPal account information and/or other details  to better your experience, keep your account secure or identify you as the owner of said account.
- When is information collected on www.rotariclub.com?
For the most part, such information is asked of you when you are registering your account, when you are setting up a campaign or when you are performing specific functions with www.rotariclub.com (i.e. making a donation).
2. Use and disclosure of personal information:
- How do we use your information?
Normally, the information collected from you, will be used by www.rotariclub.com for the following main reasons:
- Identification: Your personal details will help administration and users alike to identify you as the owner of the respective account, the campaign organiser, the beneficiary of the campaign etc.
- Security: Your account with www.rotariclub.com will be as well protected as your personal information is. No one can access your account without your login credentials, which are considered personally identifiable information.
- Contact and Notifications: For certain services, changes, updates and other functions www.rotariclub.com will need to contact you or notify you over email or in another manner that may involve personal information.
- Third Party Accounts: In order to link your www.rotariclub.com account with a Third Party account, website or platform, you will be required to provide certain personal information too.
- Help: As to assist you in using the Services, using certain functions, linking your account to Third Parties accounts etc., www.rotariclub.com's administration may require some personal information from you.
- Legal Reasons: Should your personal information be required by representatives of the government, court of law or other government institutions via legal means to aid legal proceedings involving you, www.rotariclub.com shall provide it immediately, without the obligation to inform you.
- Other Purposes: Should there be an occasion where www.rotariclub.com requires your personal information, you will be mandatorily notified by an official representative of www.rotariclub.com. 
- Third Party Disclosure
www.rotariclub.com does not sell, trade, or otherwise transfer any information you have provided, unless for reasons of legal activities involving you when the information has been required by the authorities (see How do we use your information?).
Note: These reasons why we collect and the parties to whom we might disclose the information you have provided us with, will be reasonably apparent to you at the time we collect your information and our use of it.
3. Data security:
- How does www.rotariclub.com protect visitor information?
When you use www.rotariclub.com without registration, you might still be required to provide certain personal details. Rest assured that www.rotariclub.com is scanned on a regular basis for security breaches and known vulnerabilities. We aim to make your visit as safe as possible.
www.rotariclub.com uses regular Malware Scanning. Your personal information is contained behind secured networks and is only accessible by a limited number of persons who make sure the information is gathered as and remains confidential.
In addition, all sensitive information (i.e. credit card number, bank account etc.) you supply is encrypted via Secure Socket Layer (SSL) technology.
Last but not least, all transactions are processed through a gateway provider and are not stored or processed on our servers. 
- Children Online Privacy Protection
When it comes to the collection of personal information from children under 13, www.rotariclub.com, in accordance with online privacy protection policies around the globe, puts parents in control.
- Does www.rotariclub.com use 'cookies'?
Yes, it does. 'Cookies' are small files that a site or its service provider transfers to your computer's hard drive through your Web browser. They enable the site's system to recognize your browser and remember certain information. They are also used to help us understand your preferences based on previous or current site activity, which enables us to provide you with improved services. We also use cookies to gather data on site traffic and site interaction so that we can offer better site experiences and tools in the future.
4. Legal foundations to the Privacy Policy:
www.rotariclub.com's general Privacy Policy is solely based on the new data protection package from 2016.
- The General Data Protection Regulation (GDPR) is Regulation (EU) 2016/679 on the protection of natural persons with regard to the processing of personal data and on the free movement of such data.
- The Police Directive is the Directive (EU) 2016/680 on the protection of natural persons regarding processing of personal data connected with criminal offences or the execution of criminal penalties, and on the free movement of such data.
The directive protects citizens' fundamental right to data protection whenever personal data is used by criminal law enforcement authorities. It ensures that the personal data of victims, witnesses, and suspects of crime are duly protected and facilitates cross-border cooperation in the fight against crime and terrorism.
Note: The home page of www.rotariclub.com has a designated button, whose link contains the word "Privacy" and leads to the full text of the Privacy Policy to www.rotariclub.com. Said button is properly visible and can be easily found on the home page.
- Fair Information Practices
The Fair Information Practices Principles began in the United States but lay the foundation for data protection laws around the globe. Such principles require that www.rotariclub.com take the following responsive action, should a data breach occur: notify the users affected or all current users via in site notification within 14 business days.
www.rotariclub.com also adheres to the individual redress principle, which requires that individuals have a right to pursue legally enforceable rights against data collectors and processors who fail to adhere to the law. This principle requires not only that individuals have enforceable rights against data users, but also that individuals have recourse to courts or a government agency to investigate and/or prosecute non-compliance by data processors.
5. Access to and correction of personal information:
- How can users change the personal information they have provided to www.rotariclub.com?
By logging into your account you can change any piece of information you have provided both during your registration and later on when using any particular Services. 
6. Right to be Forgotten (GDPR):
If you want to completely remove your account and delete your information in our database, you need to fill out the following form RIGHT-TO-ERASURE-REQUEST-FORM.pdf and send it to - support@rotariclub.com
7. Others:
- How will www.rotariclub.com notify you for any changes to the Privacy Policy?
Users will be notified of any privacy policy changes here, on the www.rotariclub.com Privacy Policy page. Make sure you check out this page regularly to ensure you are aware of any changes.
- How does www.rotariclub.com handle "Do not track" signals?
When a DNT (Do not track) browser mechanism is in place, www.rotariclub.com is practically not authorised to, therefore does not, track, plant cookies, or use advertising.
In these cases www.rotariclub.com also does not allow third party behavioral tracking.
- Third Party Links
www.rotariclub.com contains information about and/or links to third parties and their websites. Said third parties have their own privacy policies in place and www.rotariclub.com shall not be held responsible for the content on and privacy policy of such third party websites.
Nonetheless, as the integrity of www.rotariclub.com is our utmost priority, any feedback on potential harm induced by such third parties, or on the disregard for personal identifiable information on their part, will be entirely welcome.
8. Law on personal data protection (DPA).
(1) Supervisor: ICO (Upholding information rights) - Wycliffe House, Water Lane, Wilmslow, Cheshire SK9 5AF, T. 0303 123 1113 01625 524 510 F., www.ico.org.uk
(2) Certificate of DPA # ZA330510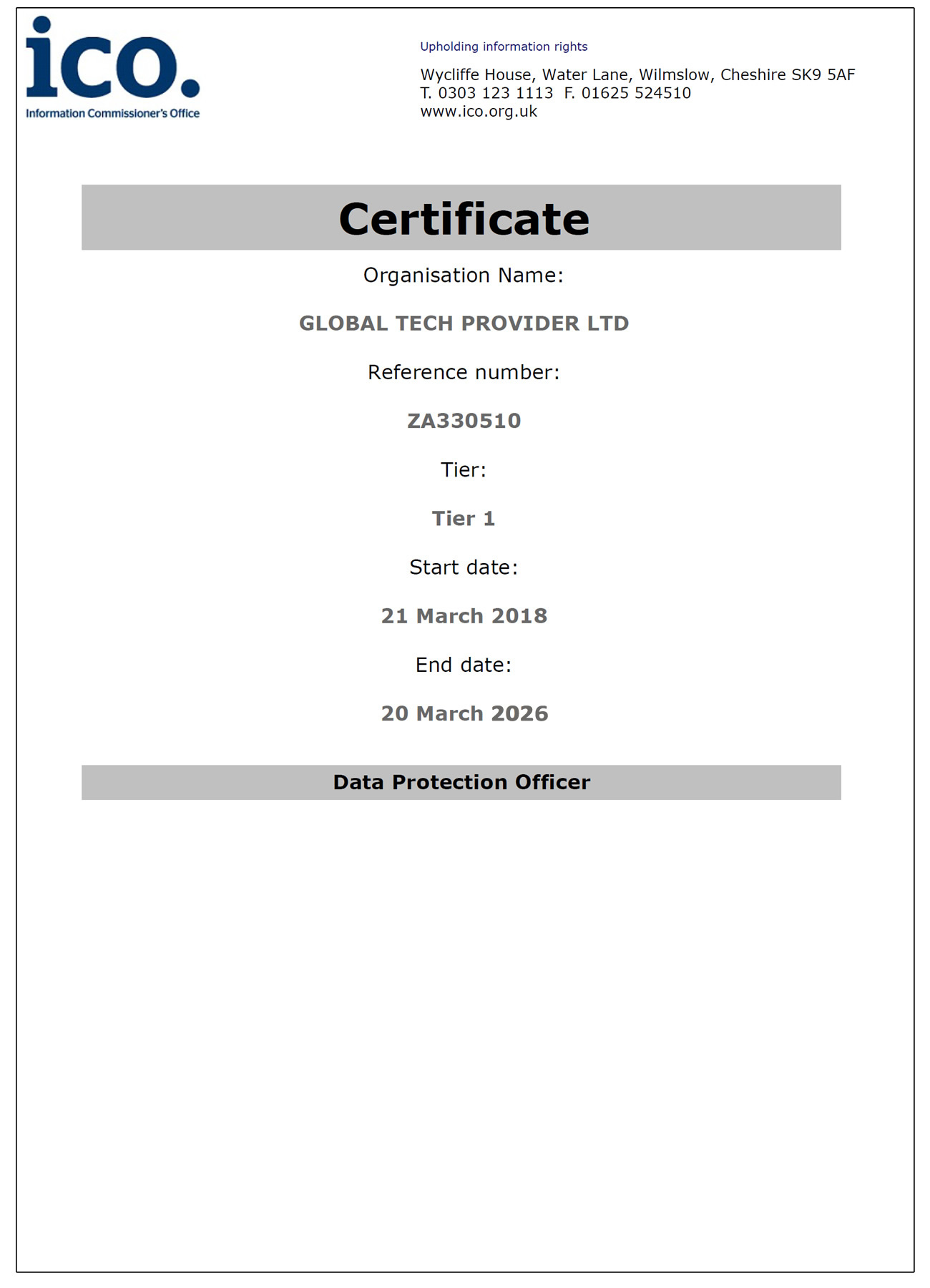 9. Contact Us
Shall any questions arise regarding this Privacy Policy, here are our contact details:
Service's provider:
Global Tech Provider Ltd
Company No.: 11192084
Address: NORTH VIEW LODGE, MEADOW WAY, WICKFORD, UNITED KINGDOM
Email: office@rotariclub.com